FoxClocks is an extension for Google Chrome, Firefox and Thunderbird that lets you keep an eye on the time around the world – or just your local time – by putting small clocks in your statusbar. Choose from a set of useful time formats or create your own – custom formats are easy to create and very flexible.
Install – Firefox/Thunderbird, or visit the official FoxClocks page at addons.mozilla.org
FoxClocks' Zone Picker tree lets you browse virtually all the world's time zones by country, region or city.
FoxClocks automatically checks for updates to its time zone database, so you'll always have the right time.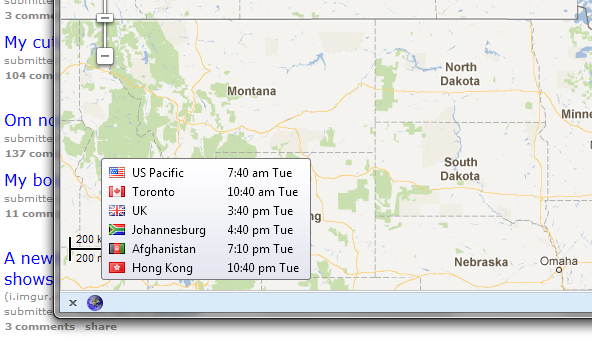 FoxClocks for Firefox and Thunderbird has even more features. You can set each clock's colour, or even have a clock change colour during certain hours (perhaps green when it's a good time to Skype your friends in Japan). Too much stuff in your statusbar? Move your clocks to a toolbar, or switch to 'icon' mode and hover over the FoxClocks icon to see your clocks. If you have Google Earth, FoxClocks can take you to any location in its database: don't know where Budapest is? Right-click on it and choose 'Google Earth…'
FoxClocks for Firefox/Thunderbird is available in many languages; FoxClocks for Chrome is available in English, German and French, with more languages to come.